Get A Free Quote
Contact us now, and we will sort your lovely selves out with a vehicle that has the moves like Jagger and the voice of an angel. Call or fill out the form.
1300 884 694
FLEET

Get ready to be impressed.
We have an exceptional quality range of spectacular limousines to hire that give nothing but transports ultimate pampered pristine pleasure that Perth has to offer.
Thanks to professional cleaning and detailing after every use we ensure the condition standard of our fleet never drops down below perfect.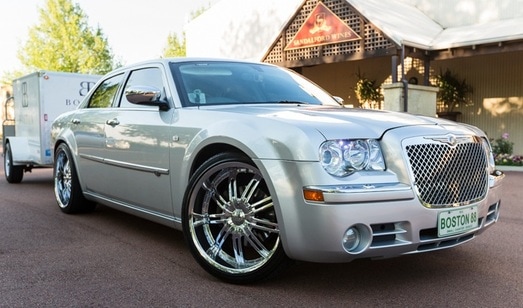 Clean as a whistle
Our vehicles gleam with clean, shining and sparkling as if they were fresh off the showroom floor. They are truly eye grabbers that impress our customers and those we roll by.
The inside of the limousines are no different with complete clean upholstery in immaculate condition always providing that new car smell. It is limo hire Perth Limo Experience knows you won't regret.
Royal transportation
Our latest model limousines are well suited for people, who want to experience royal transportation and with our high class service set themselves free from worrying about pick and drop.
For example, wedding ceremonies always need punctuality on behalf of the guests and especially the host. Whether you need to host a party or want to attend as a guest, you can simply avail Perth Limo Experience to assure limo hire in Perth with timely arrival.
The rapid increase in limo services has created a productive competition between services providers, which is beneficial for the end consumer.
Fleet available includes:
10-Seater Metal Grey 300c Chrysler limousine. The paint tone makes this limo nothing short of an elegant beauty. Boasting a range of fantastic features inside and out making it a perfect choice regardless of the service.
With luxury Lamborghini doors, huge chrome wheels, genuine leather seating, multiple LCD screens, an epic surround sound system, colourful LED lighting and full size refreshment bar loaded with all your favourites, it is a piece of pleasurable paradise.
10-Seater Silver 300c Chrysler Limousine.
This lovely lady in silver is a highly detailed driving dream suitable for any occasion but is the favourite wedding car hire of ours on offer.
Complete with both luxury Lamborghini and brilliant bridal doors, genuine leather seating, multiple LCD screens, high quality surround sound system, a dazzling dance floor, LED lighting and complete refreshment bar you are sure not to go wrong.
14-Seater H2 Hummer Limousine.
Gather up the gang, this babies exterior and interior is dressed to impress with plenty of room for everyone to share in an exciting Perth Limo Experience.
Make a big statement with this ravishing red, raw class American machine. Standing out from the crowd thanks to its unique modern look and style. a favourite for all services; nights out, parties and school balls.
This limo is loaded with state of the art features including massive chrome wheels, intense neon lighting, dazzling dance floor, colourful party light system, multiple LCD screens, high definition surround sound, roomy interior and full refreshment bar.
This super stretch limo is the only one available for hire in Perth providing plenty of fine interior space to get your party on.
Chrysler 300C Sedan
Get that soccer mum car out of the way before we call the tow company to move it for you. With the Chrysler 300C Sedan, we can get you anywhere at anytime in style.
From airport transfers, private events, VIP guests, corporate gatherings or other, our silver sleek and sexy sedan will get you there.
Don't feel like any ordinary folk, busting around the streets of Perth in a rust bucket that rattles, give yourself the treatment you deserve with our fine rolling 22″ wheels. Bling Bling…
8-Seater Black Lincoln Executive Stretch Limousine.
Perhaps something with sophisticated style is for you. The proudly professional class limousine that has been established with fine reputation for all occasions from weddings to wine tours.
The Lincoln Town Car is a classic American limo with deluxe grey interior. It is a beautiful timeless treasure classic that is perfect for Weddings and also those looking for a more budget-friendly limousine. Don't be put off though, this baby is still the choice for Presidents, royalty and celebs.
Nothing but the best.
Both inside and out the vehicles are in amazing condition thanks to being so thoroughly maintained. There would be nothing worse than to hire yourself a limo and it not be a sparkling shine sensation.
We pride ourselves on taking good care of our vehicles and of our customers in order to deliver the best limo service possible.
Boasting nothing but the latest and greatest interior and exterior features on the market, you are in for a real treat that others won't be able to help but envy. The most comfortable and carefree way of getting around Perth.
Don't wait any longer to have your jaws dropped
Come check them out and be amazed. Make a booking, hire a limousine of your choosing and see why our customers at Perth Limo Experience are never disappointed.
With wheels the other limo companies envy you are truly in for a treat, and we are so looking forward to gifting that to you.
FILL OUT THE FORM OR CALL US NOW TO GRAB YOUR VEHICLE OF CHOICE. 1300 884 694